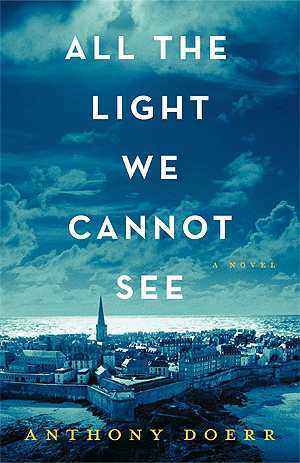 Title:
All The Light We Cannot See
Author:
Anthony Doerr
Publisher:
Scribner
Rating:
5
Synopsis
(via Goodreads):
From the highly acclaimed, multiple award-winning Anthony Doerr, the beautiful, stunningly ambitious instant New York Times bestseller about a blind French girl and a German boy whose paths collide in occupied France as both try to survive the devastation of World War II.
Marie-Laure lives with her father in Paris near the Museum of Natural History, where he works as the master of its thousands of locks. When she is six, Marie-Laure goes blind and her father builds a perfect miniature of their neighborhood so she can memorize it by touch and navigate her way home. When she is twelve, the Nazis occupy Paris and father and daughter flee to the walled citadel of Saint-Malo, where Marie-Laure's reclusive great-uncle lives in a tall house by the sea. With them they carry what might be the museum's most valuable and dangerous jewel.
In a mining town in Germany, the orphan Werner grows up with his younger sister, enchanted by a crude radio they find. Werner becomes an expert at building and fixing these crucial new instruments, a talent that wins him a place at a brutal academy for Hitler Youth, then a special assignment to track the resistance. More and more aware of the human cost of his intelligence, Werner travels through the heart of the war and, finally, into Saint-Malo, where his story and Marie-Laure's converge.
Review: This book tore me apart. To be honest, I don't remember the last book that made me cry. Last night, as I was reading the last fifty pages, I bawled like a baby.
All The Light We Cannot See has two main settings (France/Germany) over a span of forty years (1934-1974) that tells the story of four main characters (Werner, Marie-Laure, von Rumple, and Jutta) and their experiences during World War II. I typically don't read books associated with war or watch movies associated with war because... war. I know people who've been overseas, I know people who are overseas; who doesn't know somebody who's in the military? In fact, my great-grandfather was a soldier in WWII and happened to be one of those to storm the beaches of Normandy on D-Day. But I digress...
It's easy to distinguish which character is being highlighted in each chapter because the book is written in third-person. If it wasn't, I think I would be beyond confused and probably would've never found the motivation to finish reading it. The chapters are pretty short - the longest probably being ten pages at the most - and the overall story is separated in parts through the different years. However, the years don't go in order. Again, with any other book this might've confused me, but I wasn't even phased.
My overall thoughts? This book was beautiful. I loved the characters, I loved the perspective, and I recommend to everyone - even if WWII isn't a topic of interest to you. It will captivate you, enchant you, and make you think. I promise you won't be disappointed.